So a month or so ago the CPS launched a large social media campaign with the aim of encouraging everyone to talk about the topic of consent to sex, with particular focus on consent in the context of sexual assault and rape.
There were a number of charities that are also getting behind the #ConsentIs campaign and working in partnership with the CPS and these include:
It seems that there is sadly an awful lot of confusion about consent – when quite frankly there shouldn't be.  Yes means yes! No, silence or anything other than yes – does not mean yes!
So the CPS want to get people talking about this and understanding what consent really is – and so they are encouraging people to use the hashtag #ConsentIs… on Twitter and Instagram.
The CPS's role in terms of rape, sexual assault etc.  is to consider whether cases reach the threshold for prosecution and it is therefore fundamental that the public understand the principles upon why the CPS will or will not prosecute – as well as why they prosecute.  
One of their aims is to ensure that everyone understands the concept of consent (and it is easy to understand) – also from a legal perspective, consent is fundamental in determining whether certain crimes have been committed, as well as at an initial stage whether or not to bring charges. 
The CPS have produced a leaflet on Consent which you can access here: http://www.cps.gov.uk/publications/equality/vaw/what_is_consent_v2.pdf
They have also produced a number of videos which I will share links to below, as well as a link to their campaign page (http://www.cps.gov.uk/news/articles/consent_is/)which contains the following diagram: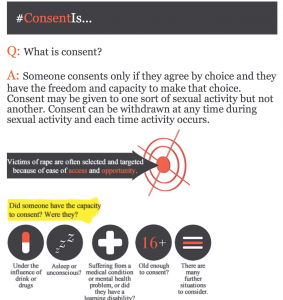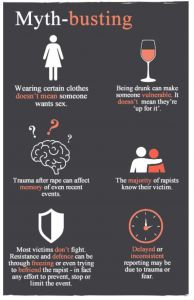 There are 3 videos that the CPS have created to talk about this topic further – as it really shouldn't be a grey area – plus they have shared a video discussing consent in relation to making a cup of a tea! Please check them out!
Please share this (rather long) post with everyone – this isn't a topic area that should bring about confusion.  I am going to do a post in the coming week briefly explaining what does not constitute consent.
Rebecca x