Last year I ordered my very first (but small) batch of Lawyer In The Making business cards from Moo.
I didn't think I would end up using many but I did give a few away at various events, and rather surprisingly have given quite a few out on the odd night out (these are extremely rare when working and studying!) when I ended up having drinks with various PR, Website and Marketing type people.
It wasn't until I received an email from the UK Blog Awards team saying that we should remember to bring our business cards to the Awards event that I realised I should purchase some more.  I am not sure how many I will give out at the event but with over 350 people there, ranging from Bloggers to journalists and PR to website management, there is a chance I may give out a few.
Moo are great for business cards, speedy service and great quality!  Plus I have my own business cards designed by Mogul, so it is great to be able to just upload the two images and have them printed exactly how they should be!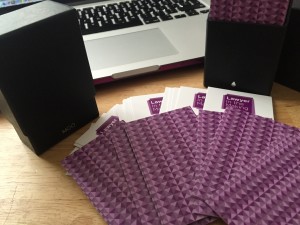 I do really need to get better at handing these out (as simple as a task it may be, I always feel quite nervous/anxious about it, or just forget – so I will try a lot harder with this over the next few months).
Rebecca x