I have lost track of how many times I have been asked "What are the '5 must read books for law students'?"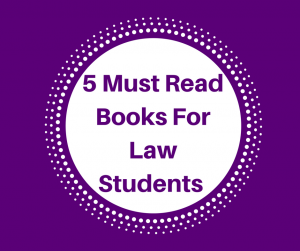 I have written blog posts with lists of books I recommend for lawyers and law students, I have mentioned them in videos, on my social media and also on email/face to face.
I am a massive law geek (we all know that!) and I do genuinely have an ever-growing law library at home.
So whilst I already have content on my blog covering 'must read books' and I recently did a twitter series containing a few of my favourites, here are 5 I want to share with you today!
I just shared the 5 books on my Facebook page, 'Lawyer In The Making' so head on over there now if you want to see the list quickly! Check out the post containing the links here.
5 Must Read Books For Law Students 
Now don't get me wrong, there are so so many books I could have listed today! Picking just five is not easy. So expect a few more posts like this.  I might turn it into a little series, a bit like my monthly twitter "who to follow" posts!
The 5 Must Read Books For Law Students  I am sharing today are: 
* Glanville Williams – Learning The Law http://amzn.to/2pOFFnc
* Catherine Barnard – What About Law? Studying Law At University http://amzn.to/2qV5S3E
* Tom Bingham – The Rule of Law http://amzn.to/2quT4Q0
* Nicholas McBride – Letters To A Law Student http://amzn.to/2qw4jYP
* Emily Finch & Stefan Fafinski – Employability Skills For Law Students http://amzn.to/2ruovaS
Next month I will share another 5 Must Read Books For Law Students.  Hopefully I can add my ebook to that list at some point in the very near future.
*Shameless ebook plug time*
If you don't already know I have an ebook coming out very soon, jam packed full of useful hints and tips! It is called, A brief guide to being a law student.
If you subscribe to my newsletter you will get notified when it goes live first, as well as receive a discount code.  You can subscribe by clicking here and completing the short form (I promise I won't spam your inbox).  In the meantime you can check out my ebook website and a short extract here. To read more about my ebook, check out my blog post here.
Rebecca x
If you have enjoyed this 5 Must Read Books For Law Students  post then make sure you share the link. I would also appreciate any shares on to your university VLE's and portals.