So I created my own revision schedules, and a lot of you commented on the monthly and week by week plans on my Instagram page.  Here is a link to download my Free Weekly Revision Schedule PDF.
WANT A COPY OF MY FREE Weekly REVISION SCHEDULE PDF?
As I have mentioned above, a lot of you commented on my Instagram post and Snapchat saying that you thought my revision schedules were really good, and you wished you had them, so I have made them a downloadable PDF for you!
How to use my free weekly revision schedule pdf?
This one has set boxes for different times of the day.  You can input your working times, and then for each box put in your subject and then a specific topic!  I thought this was better, especially if you have multiple subjects on the go (as most people have 4 or more exams).
Plus being specific with regards to your topics means you won't waste time procrastinating and just revising any topic.  You will have a structured approach to your revision and learning.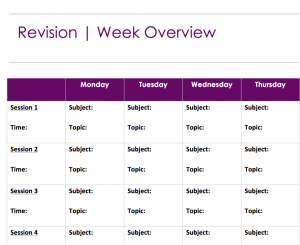 Enter your email address below for your free PDF, once you have entered your email, a link will appear.  Download the free schedule, print it out and fill it in!
Happy revising! Please share the link to this blog post with your friends! (If you want to download the March 2017 Revision Overview click here)
[email-download download_id="3164″ contact_form_id="3150″]
Rebecca x