Hi everyone,
You will have seen my blog post last Monday stating that the voting was now open for the #UKBA16 and as you know I was totally surprised to get shortlisted last year as I didn't really publicise it that much!
I am pretty certain I won't be shortlisted this year (and that is okay!) partly because apparently voters can vote once per day – and I really really don't want to spam your twitter feed and inbox asking for votes.   So if you haven't voted already and would like to please click here – and when you fill out the form, please select the Education + Lifestyle option in the drop down box as that gives me a vote for each category! (This was definitely a better idea than last year when you had to vote separately for each category via two different links!).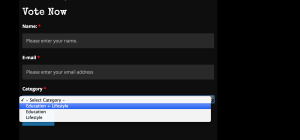 I caught a glimpse of this 'voting once per day' news on social media and when I checked the voting rules it is correct:
The Public Vote:
– You may vote for any individual blog and any company blog in each of the 18 categories
– Voters will be able to vote off any mobile device or desktop once per day. Therefore, you may vote using the same email address more than once, but on separate days
– You can vote for your own blog
I don't expect any one to vote for me once per day at all, and I am just very grateful to everyone that has voted so far, and for sharing my blog!
Rebecca x