So it is that time of year again where I kindly ask as many of you to vote for me as possible.  I am up for two categories Lifestyle and Education and would appreciate your vote in both categories.  The deadline is Monday 25th January 2016 at 9pm.
The easiest way to access the voting page for my entries is to click this link: http://www.blogawardsuk.co.uk/ukba2016/my-entry/lawyer-making 
When you get to the bottom of the page and the voting details please can you either vote once for each category, or click on the Education + Lifestyle button (it will save you time!)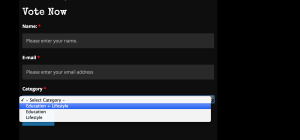 Thank you for your ongoing support and for voting for me.  Please send me a tweet and let me know if you vote, and I would very much appreciate you sharing this with any one you know you would vote for me!
Rebecca x