So two weekends ago I got given a copy of Super Lawyers Magazine (a supplemental piece for the Telegraph).  I hadn't seen any previous yearly editions of this but was intrigued to see who had made it into the Annual List of the top solicitors in London (and they also include anyone they see as a rising star).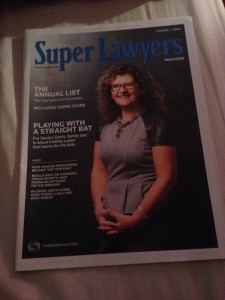 It was great to see lots of smaller London based firms have some of their solicitors recognised in the Annual List, as well as the more well known ones.  The magazine was split into three sections:-
Selection Process
Super Lawyers – The Top Lists and Listed by Area of Practice
Rising Stars – Listed by Area of Practice
The magazine also contained a couple of legal articles, such as Family Law, Trade Secrets, TUPE and a few others.
The magazine is created as part of Thomson Reuters and they have a website http://www.superlawyers.co.uk

I would definitely recommend checking the magazine list out, even if just out of curiosity! Also it is quite handy if (as many students already know some of the areas of law they would consider working in) you want a flavour of what firms are on top for different areas of law.   Plus it might be worth checking out the list for any impending Vacation Scheme/Training Contract interviews just in case the firms have any one listed – shows you have done some prep!
There was a particularly interesting in the magazine, on Page 8, entitled "Greg Powell's Words of Wisdom – In court and in verse, the criminal defence lawyer is a powerhouse".  This was an interview style article but was packed full of useful tips, applicable to those looking to become solicitors as well as barristers.  One particular question which I liked reading was:-
Q: Do people ever ask, "How can you sleep at night?"
A: They do.  I'm not the jury.  It's for the jury to decide guilt and innocence.  If you were accused of something, you would want a lawyer who was wholly on your side.  But you also want a lawyer who gives you good advice and never loses sight of the fact that a majority of people plead guilty , and a lot of those do so because they have realistic advice about the evidence.  Your role is to not blindly defend people, but to defend them."
I always get asked how I am going to feel doing this sort of job, and I can never properly but into words my answer – but I have just found the perfect way of saying it! Regardless of whether you are defending or prosecuting the above applies and could not be worded any better – it is about doing your job, and giving good and correct advice!
If you get a chance do check the whole article out!
Rebecca x
p.s quote taken directly from the magazine with no alteration!