So I often get asked what the first law book I read was and my most memorable one is Glanville William's Learning The Law.  (I had read a couple of other law related books at school, which I had chosen as my Prize Giving Prizes – yes I was that much of a law geek, even at the age of 13) but my Learning The Law book is the most memorable.
My dad took me on a day out in London when I was about 13-14 and after having a look at the Royal Courts of Justice and Middle and Inner Temple, and even speaking to barristers, we headed into Wildy Bookshop.  The gentleman behind the counter recommended that particular book, and said that all law students should read it at some point in their career, and it was a sort of given that future barristers would have read it.
So my dad bought it for me, and I read it, and it really is a great book!  I have read it since, and also read various chapters.  I would highly recommend any student reading it (I know they already have a lot of reading to do studying law), and I definitely recommend it to any aspiring law students.
I will put up a proper review of it soon, but for now that is my first law book!
If you do want to have a bit of a better look at what it is about, and read other reviews etc.  the latest edition is here: Glanville Williams: Learning the Law (Fifteenth Edition)
It has definitely changed editions and the cover has changed since my copy but I would highly recommend it, and at £13.00 you really can't go wrong.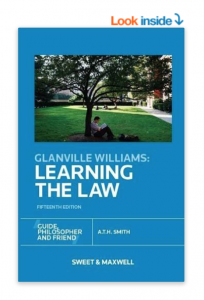 Let me know if you have read it, or if you buy it!
Rebecca x