So as you know I had my graduation this week and it was really good (but sort of a wasted time in terms of timings).  But I wasn't overly impressed with the rain when we were waiting outside St Albans Abbey/Cathedral.
For those of you that haven't graduated yet, you turn up hours before your graduation time, so we arrived at 1pm for a 7pm graduation.  You turn up, get gowned up and have your graduation cap put on, and pick up your official tickets, then have your official photographs taken and then you are left to your own devices until you need to be at the Abbey for 6pm.
So my parents took me for lunch, and I could have chosen anywhere in St Albans but for me it had to be Nandos, followed by a obligatory hot chocolate with marshmallows in Costa!  I chose Nandos because it was the meal that I was most likely not going to spill down my dress and gown, as whilst I am not normally clumsy, that would have been the day to make a mess!  In Costa we had a look at the preview prints of our professional photos, some were okay, some not so keen on, but I will look at them properly on line and no doubt purchase a few!
When you finally turn up at the Abbey and are allowed in you go and sit in your seat, and wait a very long time!  We then had a few speeches, and then finally names get called out and you proceed around the abbey until you are at the front, and ready to walk on state.  One of my favourite tutors was stood near the side where I was walking on, and kept making me giggle.  I safely managed to get across the stage and down the stairs, where I was handed a fake certificate, and collected my real certificate once I got to the back.
After the rest of the speeches, I then went outside and had to try and locate my parents in the pitch black, and wearing heels and the wet grass wasn't overly helpful!
We then went back to St Alban's Arena to de-robe and there was a full on drinks reception but I just wanted to head home as it had been a long day, despite not doing much! So I said a few goodbye's and then headed to bed!
I also managed to meet up with my friend Danielle before Graduation so we could get a few photos, and also speak to some of the tutors I really liked afterwards.  It was a good day and nice to say I have officially graduated but I think I would have been absolutely okay if I hadn't attended.
So here are some photos from the day (I will share official photos when I receive them in a few months):
The Ticket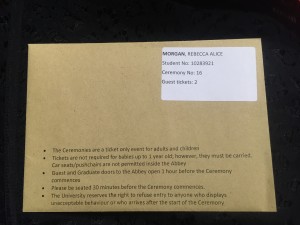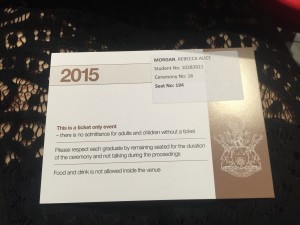 The Venue
The Route (across the stage!)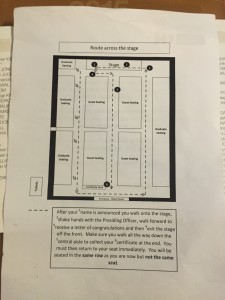 Photos with my parents
Costa and Costa Selfie!
Photos with Danielle
Selfies!
My fake certificate!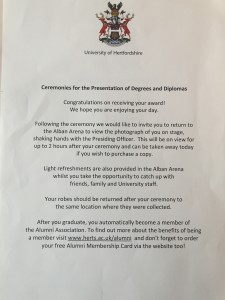 My real certificate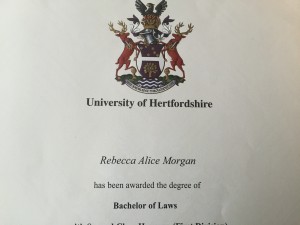 The fake certificate and real certificate are currently still in the plastic whilst I wait to get them framed!
And my final photo is a strange one, as I never expected to purchase it, but as you go onto stage they take your photo as you collect your fake certificate, and when we de-robed at The Alban Arena we had a quick look at my photo and it was actually nice (and considering we weren't so keen on the professional ones we had taken earlier) we purchased one copy!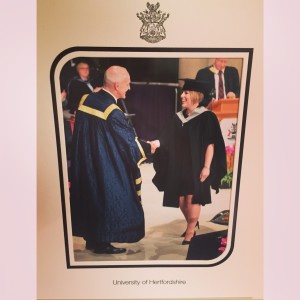 I hope you like this (somewhat photo heave) blog post! Graduation is exciting, I just wish you could turn up, put your gown on, and then graduate all within an hour (wishful thinking!).
Rebecca x