Big Voice London (@bigvoicelondon) are having a twitter chat on Sun 7th June  2015 between 7 and 7:30 pm and all of you should get involved!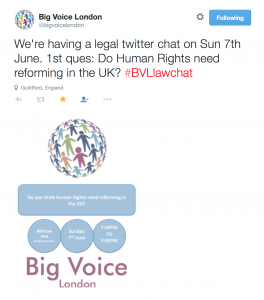 Please share the information on the twitter page above and get involved using the #BVLlawchat
The 1st question is "Do you think Human Rights need reforming in the UK?"
Whether you are interested in law or not, you will not have been able to escape the current news articles surrounding Human Rights, and whether they need reform.
I have my own opinions on this, as do many others so it would be great if you would get involved and share your opinions!
As you know I helped with a Big Voice London project last year and will be helping at various bits hopefully this year and they are amazing to help at, plus it is so rewarding working with students interested in law and making a difference, so please do keep an eye open for any events they are running over the year.
If you are prospective law students try and come to these events, but equally if you are a law student, or academic or professional perhaps you may be able to assist at an event!
I hope lots of you get involved with the #BVLlawchat on the 7th June as it should be a very interesting discussion point.
Rebecca x