So last week this arrived on my doorstep….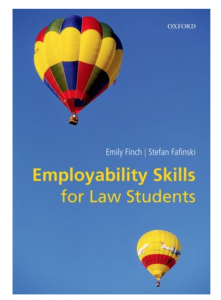 And to say I was excited was an understatement, as not only is this book written by two very respectable senior lecturers in law, but they gave students the chance to contribute to their new book.
I was fortunate enough to provide them with a couple of lines about obtaining mini-pupillages, and that information made its way into the book.
Whilst many of you will think that it is only just a few lines and not something to get too excited about, for me it is a massive deal and something I am proud of.   It is something I have never had happen to me before, and I know very few people who have contributed to books whilst still studying at undergraduate level at University.
I am hoping that this is going to be the start of something and that I might be able to get involved in writing more for a variety of books by different people – as it was a lot of fun!
So this is a massive thank you to Emily Finch and Stefan Fafinski for giving me the opportunity to provide them with a few lines of information, and also to all my family who have come over to my house and I have  thrown this book in their face, as I am that excited to see my name in a book… and yes I have even flagged the page with my name on – awkward!
I will be writing a full review on the book in general after exam season – so keep an eye out! It has some great tips!
rebecca x