For the last two years I have run janlawblogpost (also known as #janlawblogpost).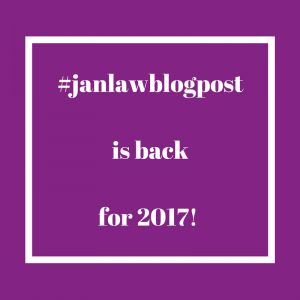 So what is #janlawblogpost?
Quite simply #janlawblogpost is where everyday in January I will upload a blog post. I usually post a few times a week, but this is every day!
The type of content I will be sharing includes, legal news stories, weird cases, book reviews and much more.
I try and vary the content I upload each day, but it is always legal related.
I will be automatically uploading posts and then resharing them with the hashtag #janlawblogpost.
Previous (Janlawblogpost) links
I ran #janlawblogpost back in 2014 and 2016 and you can check out a few of the posts here.
Would you sue your mum over a birthday card?
Kissing in public can land you a fine and other strange laws….
Mooting.. a key skill and rite of passage for law students?
Strange Laws.. Japan and over-the-counter medicine
List of Strange Laws in January 2016
Panorama: Teenage Prison Abuse Exposed
So do keep an eye out on the #janlawblogpost hashtag on twitter over the coming month.
Rebecca x