12 days of christmas
Earlier this month I attempted to be slightly creative and write my own 12 Days Of Christmas.  I have seen a few other people upload far more generalised law ones but this one is slightly more tailored to me, Lawyer In The Making and my 2016.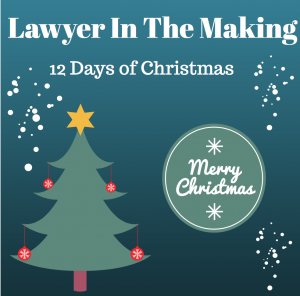 12 days of (lawyer in the making) Christmas
12 Legal Conferences
11 Law Schools Visited Abroad
10 YouTube Videos
9 Courts Visited Around The World
8 Weekends Studying The BPTC
7 Abroad Business Trips
6 Years Of Blogging
5 Mini-Pupillages/Work Experience Placements Undertaken
4 BPTC Exams
3 Business Card Re-orders
2 Sets Of Flyers Created (Blog and Ebook)
1 Year Of Running Lawyer In The Making Full Time
I hope you enjoyed a very brief overview of my year!
Rebecca x