So on Saturday evening the Green Army 2016 team successfully completed their bike ride raising money for Blood Wise UK when they arrived at the Sagrada Familia in Barcelona.
4 days of intense cycling, tired legs, long distances, mountains and climbs that the Tour De France teams will be cycling in July and a whole lot of laughs later they finished and I was able to go and meet them as I was still in Barcelona.
I can't wait to hear more stories, of the highs, lows and what they got up to!  I know that they all work hard to support each other on these rides, and it isn't a competition, it is all about ensuring the whole team successfully completes the challenge and raises as much money as they can for charity.
My conference finished on Friday and I was invited to join the Green Army team and the other participants of the Discover Adventure bike ride for dinner on the Saturday.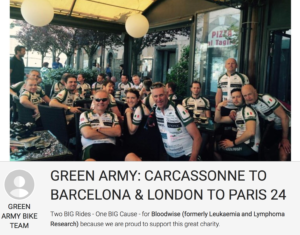 Luckily the Green Army team shared lots of photos on their twitter feed during the course of the bike ride and you can check them out here – whilst you are there please give them a follow!
Before they went out, I did ask my dad to let the person that manages the website know to put a twitter feed on the site – so that people that didn't have twitter could still see the photos!  Do check the photos out, they even include photos of the beautiful scenery, team photos, and even a quick sit on a snowmobile (yes, they were that high in the mountains!).
Their JustGiving page is still open and I would be very grateful if you could donate to Bloodwise – no matter how big or small the amount! You can donate by clicking here.
Rebecca x