So today I saw on Facebook (and then on the Middle Temple website) that today 32 Middle Templars have been appointed as Queen's Counsel in the 2015-16 competition, there were 107 in total.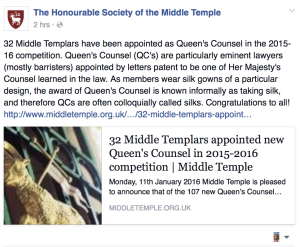 For those of you that don't know Queen's Counsel (QC's) are particularly eminent lawyers (mostly barristers) appointed by letters patent to be one of Her Majesty's Counsel learned in the law. As members wear silk gowns of a particular design, the award of Queen's Counsel is known informally as taking silk, and therefore QCs are often colloquially called silks.
These appointments are made by Her Majesty The Queen on the advice of the Lord Chancellor, Michael Gove MP, following consideration by the independent Queen's Counsel Selection Panel.
The list of Middle Templars, in order of seniority, is as follows:
Ms Kim Franklin
Mr James Michael Scott Ramsden
Mr Paul David Ozin
Mr Andrew John Moran
Mr Jonathan Charles Ashley-Norman
Miss Sarah Joanne Lee
Mr Michael Joseph Ivers
Mr Richard Julian Henshaw Edwards
Mr Adam John Weitzman
Ms Caroline Mary Shea
Mr Daniel Nicholas Tatton-Brown
Mr Aidan Vine
Mr Oliver Edwin James Glasgow
Mr Thomas Moody-Stuart
Mr Tobias Augustine William Riley-Smith
Mr Giles Francis Sacheveral Cockings
Miss Clodagh Maria Bradley
Mr Richard Colin Wilson
Mr Benjamin Roger Collins
Mr James Ewins
Ms Bridget Maura Dolan
Mr Thomas Richard Hinchliffe
Ms Kama Louise Melly
Mr Peter Skelton
Mrs Clare Adele Sibson
Mr David Ian Head
Mr Salim Abdool Hamid Moollan
Mr Daniel Benjamin Squires
Mr Brian Anthony Kennelly
Mr Guy Luke Vassall-Adams
Mr Alexander Henry Spencer Booth
Mr Thomas Plewman
For other Middle Temple news and posts check out: http://www.middletemple.org.uk
Rebecca x