What happened the other week at Alton Towers was absolutely devastating and I wish all of those involved a speedy recovery!
These accidents are one in a million and I hope some people aren't put off by what happened, plus so many other things are rare occurrences such as plane crashes, car accidents etc. and people can't be scared to step outside their front door just incase something bad may happen!
I am not going to comment on what happened that day or the legal basis of any of it, plus Alton Towers accepted full responsibility and I am sure as time goes on we will hear all about the legal process as it develops.
What I do want to blog about is the awful firm of solicitors who sent a completely unnecessary and also distasteful tweet on the day of the accident. You may have seen this shared on Twitter…..
They then shared this: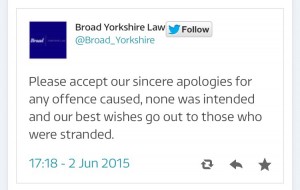 How awful and totally unnecessary is that! Rumour has it that whilst they tried to blame it on their trainee they don't actually have a trainee… I don't know the truth on that, but either way that tweet should never have been sent! Why don't some people use their common sense.
Whilst they claim it was meant to be a lighthearted joke/publicity thing – given the severity of the situation even at the time they tweeted it was totally uncalled for.
Rebecca x