So I don't do this very often but I thought I would share the link to a law blog which I cam across the other day and is very informative.
Matthew Scott is a criminal barrister and you can find him on twitter @Barristerblog
His blog is barristerblogger.com and it is full of really useful articles which I would highly recommend students and anyone else interested/working in law should read.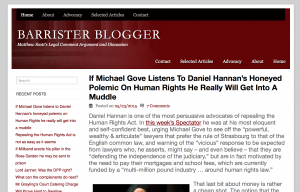 The article that I initially found (which linked me to the blog) was one Matthew had written about advocacy and I think it is well worth a read – check it out here: http://barristerblogger.com/advocacy-tips/introduction-to-advocacy/
Let me know if you do go over and check out Matthew's blog on twitter or on here!
Blogs are getting more and more popular even in law (to the point where lots of law firms/chambers now have blogs as well), but so often with individual/more personal law related blogs people have them for a little while and then give up writing or forget about them, and what is nice about Matthew's is that it has been going for a while and there are still current posts!
Do head on over and check it out!
Rebecca x