The other day I got a notification about my twitter and it was from Justis (@JustisPub) and they were retweeting some of the articles I had written for All About Law, they kindly shared a number of my posts (both the ones for All About Law as well as my blog posts) on twitter and they even shared them on their Facebook.  https://www.facebook.com/justcite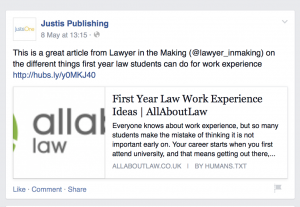 Whilst my posts are still up on the All About Law website it made me realise that my blog link is for my old wordpress one and my twitter handle is incorrect – so I am currently emailing All About Law to change this.  You can also access these articles by clicking on the links in my Articles section of my blog.
Thank you Justis for sharing my posts, it is amazing to have them shared by companies, especially when they have found them themselves and want to share – so I am very grateful!
Rebecca x