Quite a lot of the students ask me about student essay competitions that are out there, and there are a fair few!
Sometimes firms put up competitions or Inns of Court, you just need to search for them really, or keep an eye out on twitter, as lots of people share and retweet the information.  Plus with law firms having a massive presence on twitter they put the information up as well!
Grays Inn had a competition a little while ago that Nicola Monaghan shared with me.
And currently there is the Law Reform Essay Competition Sponsored by the Bar Council Scholarship Trust and you can find out further information on their website.  The deadline is the 6th October 2015 so you all have plenty of time to get an essay in.
So there is plenty out there and it is worth doing a google search and see what comes up, as even some charities and other organisations run law related essay competitions.
Whilst on the subject of essay competitions, I was flicking through the Law Society Gazette (issue 27 April 2015) and saw this little note about an Essay Prize Winner: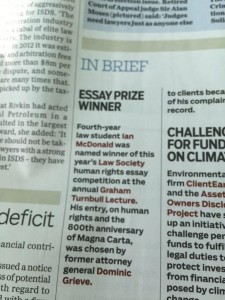 I recognised the name but wasn't sure if it was the same Ian McDonald I knew from twitter who is a part time student, hence why I sent a quick tweet with this picture to him to see.  It was, so I would like to send my congratulations once again to Ian McDonald (@ian_mcdonald).
I will try and keep an eye out for any I see or find advertised, or even get sent the information of, and will try and share it with you!
Rebecca x
#maylawblogpost