alternative legal awards 2016
Today's #janlawblogpost is taking you to an article John Hyde has written for The Law Society Gazette, containing Alternative Legal Awards.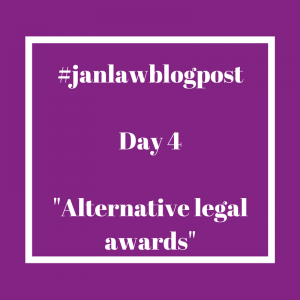 I really enjoy reading posts from The Law Society Gazette.  I was fortunate at university and various places of work to pick up a hard copy.  Now I just check it out online or hard copy when they hand them out at events.
So if you saw any legal news or were on twitter much last year, you will know that there were quite a few legal award ceremonies.  John Hyde has created his own "alternative" legal awards, and it made me giggle so I just had to share it.  You can read the article here.
Check out who won:
The 'Boss, Can I Have a Word?' Award
The Donald Trump Award for Excellence in Social Media
The 'Value of Your Investment May Go Down' Award
The 'Say What You Really Think' Award
Plus there are some other "alternative" awards on the list as well.
The Law Society Gazette
As mentioned above, and in numerous blog posts and twitter tips it is important to stay up to date on legal news.
If you don't already I would highly recommend you check out The Law Society Gazette website, and also their twitter feed. The website is free to access and news stories go up every day.
Rebecca x
#janlawblogpost