So as someone who has grown up loving all things associated with law, and has spent many an afternoon walking around the Inns of Court, and down Holborn and the RCJ, I was fortunate enough to get to dine at Lincoln's Inn Grand Hall last week.
The building itself is amazing and as one other student described it on the night, "It feels a bit like Hogwarts".  Whilst I personally wouldn't describe it as such, the buildings are grand and it keep up with the traditions.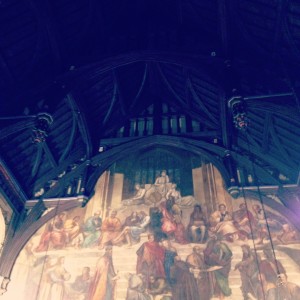 It was an evening spent hearing about the Bar from various speakers as well as networking with Judges, QCs, Barristers and fellow students (who are all hoping to pursue a career at the Bar).
Despite there being lots of uncertainty over where the Legal System is heading, this has not changed my desire to become a Barrister.  I am aware of the difficulties and hurdles ahead (as highlighted on Thursday night) but as many of the QCs and Judges also said afterwards, if you really want to do it, make it happen!
And that is exactly what I plan to do!
rebecca x
p.s I will be talking more about the event in another post – so keep an eye out!