Yesterday morning on the way in to work my phone flashed as I had received a tweet and it was from Richard Buchanan (@GENTLEMANGINGE)  a prospective law student who had attended the law careers event at Herts (see my blog post about it here: http://wp.me/p4pPCf-e4)
He sent me this:
@lawyer_inmaking excellent talk on the 23rd of April at Hertfordshire university. Some great tips and advice. Thanks.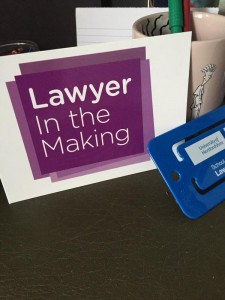 Whilst I know that my post cards were circulated at the event, and also other events this is the first time I have seen a photo of one taken by someone else! Also I am extremely pleased you enjoyed the talk!
This really made my day, and I had a great time at the talk and loved speaking to all of those that attended, and I do wish all of you all the best in your future legal careers!
Rebecca x